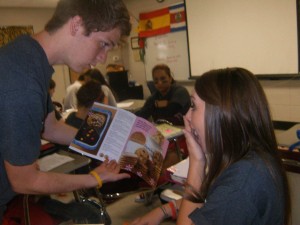 Every year during the first nine weeks the foreign language classes do a fundraiser.  The foreign language classes have Mitch Wright from Tasty Batters come talk to Spanish and French students about selling cookie dough and magazines.
"We sell cookie dough for many reasons," Spanish teacher, Lori Nielson, said. "We help people at Christmas, or we help people in bad situations."
Nielson added that they also use the funds to buy classroom supplies and to help students in Spanish and French classes.
"It helps us pay for Foreign Language Week, and because of raising money students do not have to pay for Foreign Language Festival," Nielson said.  "We also put away money for scholarships."
Mrs. Wendy Cunningham, Spanish I teacher says, "Cookie dough is a good product and it sells well. We also give a lot of prizes to the students who participate in our fundraiser so it makes them want to sell."
Cunningham also stated that the foreign language department has been working with Mitch Wright for over twenty years and they have loyalty to him and the Tasty Batters company.
One great cookie dough seller, Sara Hamilton, says "I sell cookie dough because I want to be successful and I feel special when I do good."
"I'm really competitive and I have confidence that I'll be the top seller in my class. I'm really looking forward to the prizes and the money," says Hamilton.
Hamilton states that it gives her a boost that most of the money goes to charitable events.  Not all the money goes to foreign language or the company, but it helps out the people who need it.
By the end of the fund raiser Hamilton sold thirty tubs of cookie dough.  The money collected from the sales will go to funds helping others and helping the foreign language department.