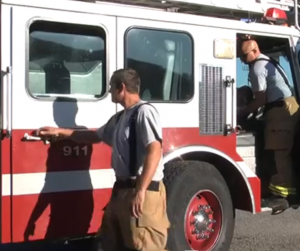 This past Monday the lunch ladies were doing their normal duties of preparing lunch for all of the students, when all of the sudden they began to smell smoke coming from the back of the cafeteria.
They all split up and tried to find the source of the smoke.  One of the ladies went out on the back dock and found that the fire was raging inside the dumpster behind the cafeteria.
"We smelled smoke in the cafeteria, we went through the cafeteria to look for anything that might be burning. One of the ladies walked out onto the back dock and saw flames coming from the dumpster," Esther Huffman, cafeteria manager said.
Bookkeeper Peggy Coleman was immediately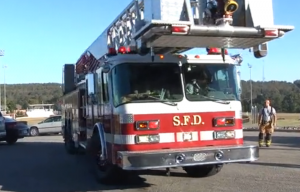 phoned and she in turn called the Searcy Fire Department to come out to the school and put the blaze out.
Not long after two fire trucks pulled up to the scene with seven firefighters in total.  They immediately jumped into action and began to put the fire out inside the dumpster.
"We arrived on scene, had light smoke showing from the dumpster next to the cafeteria. We extinguished the fire…and the fire is under control at this time," Captain Donald Garringer of the Searcy Fire Department said.
Shortly after the fire was under control the firemen gathered up their equipment and drove back to the fire station, crisis avoided.