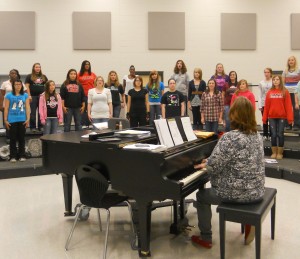 Each year at choir members spend a lot of time getting ready for All Region tryouts.
"This year our choir is very large,"  choir director, Tina Niederbrach said.
Niederbrach said the choir is working very hard this year.
"I think that my girls and boys are really good at the time but they need to continue stretching their voice ranges to make them larger," she said.
Niederbrach said there is one thing she enjoys the most about being a choir director.
"I love it when we all sing together and we make no mistakes because the girls don't realize it, but it sounds absolutely beautiful," she said.
First time choir student Ariel McCormack loves the challenge of choir.
"Learning new music, and being able to perform it is my favorite part of being in choir," McCormack said. "I really think its awesome, because I like singing and I just really like the class."
Third year choir student Jessica Bryant thinks the choir could make some changes.
" I think that the choir as a whole is doing great but i do think we have to improve in certain areas," Bryant said.
Bryant said she is busy preparing for All-Region and was not quite ready for the competition. "I need more practice with the music."
Niederbrach said they will continue to improve and work for the tryouts in a couple of weeks.
"We have some high expectations  for choir this year," she said.