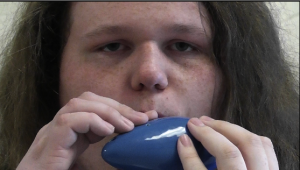 Searcy High School offers many musical classes but one of the more frequenlty signed up for is music appreciation.
In this class,  projects and tests involve demostrating musical talents and abilities. Junior  Alex Wilson demostrated  his talent of playing an unusual instrument called an ocarina.
"I first learned about the acrena from the game Legend of Zelda: Ocarina of Time," said Wilson, " and since then I have been playing it for about a year and a half now."
An Ocarina consists of an oval shaped ceramic pod with sound holes.  There are different types and sizes of ocarinas used for different types of music.
"There really isn't a future with ocarina playing," says Wilson, "However, I feel that this definitely won't be my last ocarina.  I really want to save up and buy a few with different keys so I can have a larger range on song choice."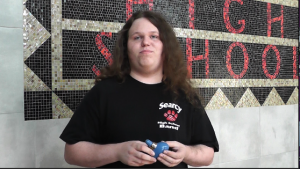 Alex Wilson has been a member of the Searcy High School band, jazz band, and he has taken many musical related classes.
"I really have a love for music and I try to stand out by learning things people usually wouldn't learn," said Wilson, "hopefully in the future I can look back and know that I made an impact on people through my music playing abilities."