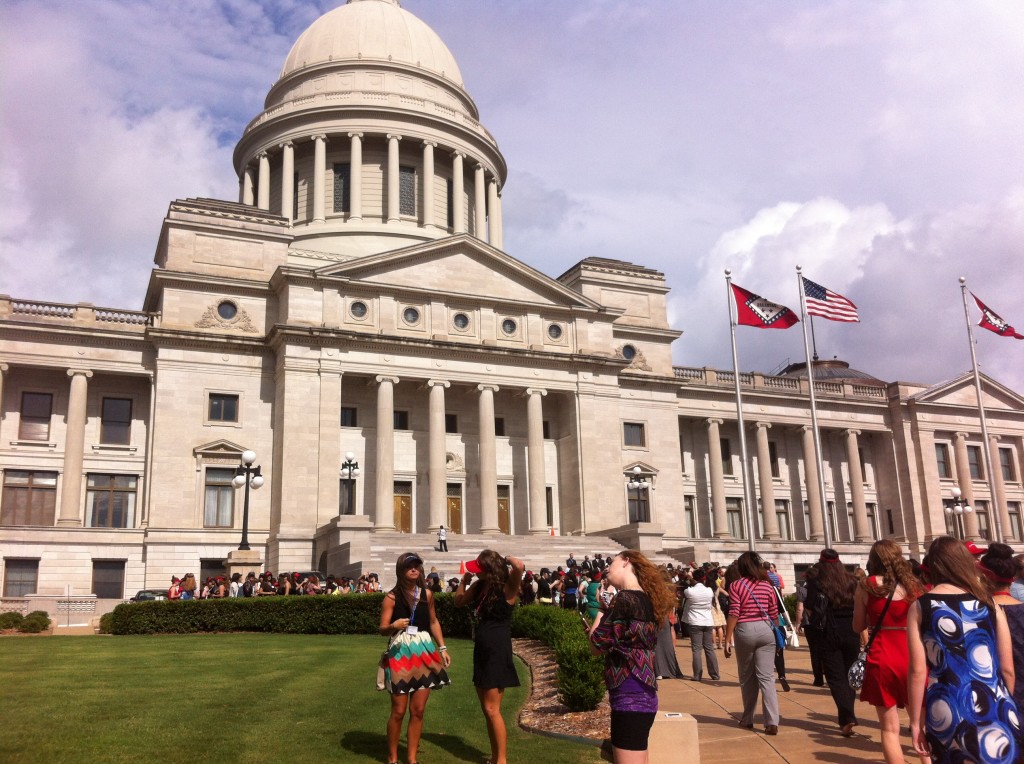 Over the past summer, I was presented with the privilege of attending Arkansas Girls State. Girls State, and Boys State, is a program put on by the American Legion Auxiliary in every state.


Arkansas Girls State was hosted by Harding University. Girls State reenacted a state government by assigning delegates to a "city" and "county." Within the city and county, elections were held for local positions such as city attorney, and a mayor was elected also.


There are even two  political parties that girls are assigned to before they even get to Girls State.  The two parties were Nationalists and Federalists.


I won the title of city attorney for Hamilton City in Brown County. As the week progressed, the city meetings turned into county meetings, which turned into state meetings Representatives were chosen to vote on state elections.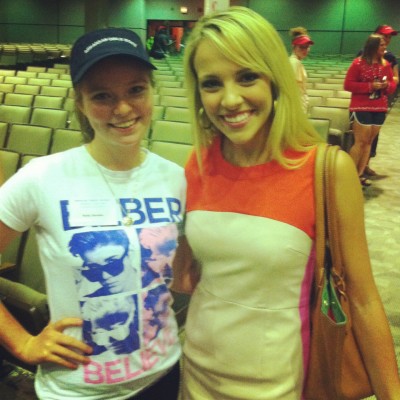 At the end of the week, all eight hundred girls headed to the Capitol.


Several people told me, "You'll make life-long friends at Girls State."  From my experience, they were wrong. I met plenty of great girls that week, but I have not spoken to any of them since then.


Girls State began on Sunday and ended on Friday, but on Saturday I had a baton competition. While other girls got to bond, nap, and meet other people, I spent my time outside practicing. I never really got to spend time with my roommates or anyone else, but that was my fault, I guess.


The newest fashion statement around Harding was the blue or red visors that we had to wear all day every day.  Visors in the summer get sweaty and gross, especially when all I did was practice baton in my free time.

I was told it was more fun if you ran for everything, but, it was only fun if you won the titles. I won a few small titles, but I quit running when we got to state positions.


Miss Arkansas, Sloane Roberts, came to visit Girls State.  She gave a speech about her faith and how she has gotten to where she is today. Her speech was really inspiring.  She answered questions from any girls that wanted to ask and she took pictures with a few girls after she was done. Miss Arkansas' visit was my favorite part of Girls State.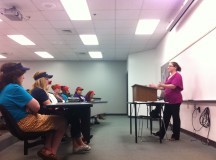 We had to sit through countless speeches and seminars on leadership and government and politics in general.


We also had to sign up for a class to take, but we got to pick from the options they had.


I chose the journalism class. I already knew everything they had to tell me.  I have the journalism class at school to thank for informing me on that, because it seems like I know all I should know for now.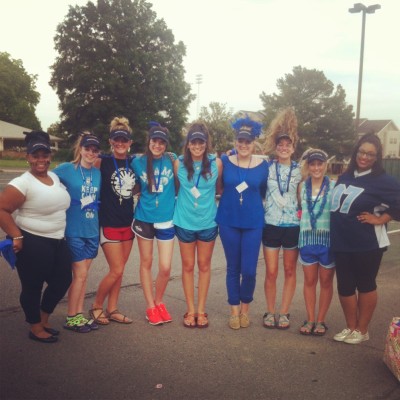 One night, we had a state rally, for which all the girls dressed up in their own colors. Nationalists (Nats) dresses in all blue and Federalists (Feds) dressed in all red. Girls wore face paint, fixed their hair crazy, and decked out in their colors. I was a Nat. All the Nats in my city squeezed in my room to get their faces painted and their hair teased. At the rally, the Nats gathered on one side of the Benson, and the Feds gathered on the other side.  All the rally consisted of was yelling chants at each other, and seeing who could be the loudest.
This was also the night that the two girls running for governor, one Nat and one Fed, gave their final speeches before the election.


The rally was fun because of how close it brought us all when we were dressing up and acting crazy together.  All the Nats in my city sat together yelling chants in our all blue outfits and laughing at how we all looked. 


I had an issue with the talent show. When I arrived at tryouts, I was the first one in the auditorium.  I figured, since I had a competition that weekend, why not get some extra practice? As more people arrived to tryout the judges kept informing us that "The Girls State talent show was more like a 'variety show' because so many girls are so talented." I was the only person that twirled, or anything close to that even, for auditions.  I did not make the "variety show" though; I guess all zero other twirlers took the originality out of it.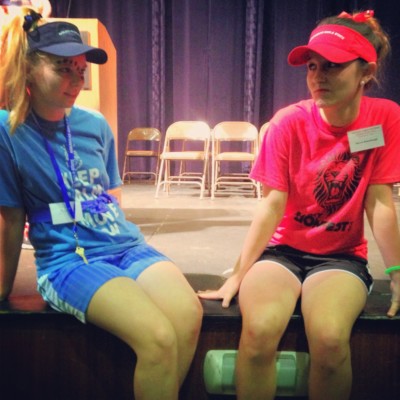 I did take notes, though, and this was the lineup for the "variety show:"
fourteen singers
four dancers
six people played instruments
one sign language song
one poetry reading
one tap dancer/singer
The girl that tap danced and sang at the same time stole the show.  If there had been a winner, she would have gotten my vote hands down. They did give the audience quite a variety though. Fourteen singers.


The same night as the talent show, a downpour came over Searcy.  The directors spent maybe too much time deciding whether to send us to our dorms or not. We had pizza waiting on us in our dorms for the Thursday night pizza party. After about an hour of waiting in the Benson auditorium with eight hundred other girls, they finally sent us to swim our way to the dorms.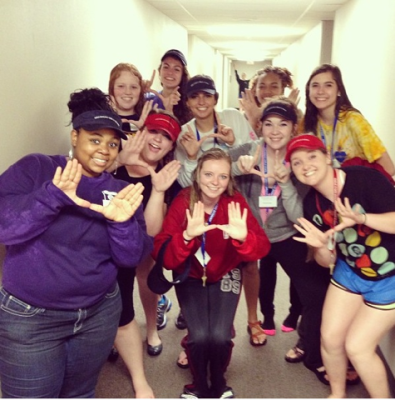 I stayed in the farthest dorm from the Benson, so I had quite a ways to go. After we all got into dry clothes, we enjoyed our pizza in the hallway listening to the storm coming from right outside. Even though there was a monsoon outside, we managed to make the best of our pizza party by laughing and talking until we could not stay up any later. 


In the midst of the craziness of the elections and practicing for my baton competition, I actually met another twirler.  I invited her to twirl with me one afternoon, and just playing around doing tricks was a nice break from drilling myself with all four of my routines for the upcoming contest.


On the last full day, we all piled into several busses and made our way from Searcy to Little Rock to check out the Capitol. Eight hundred girls in one building is a lot of girls.  We ate lunch in the back yard of the Capitol, and I almost left my cell phone there.  That would have been extra bad because it started to rain a little on our way back inside, but I ran back to get it in time to save it.


I did not have a good time at the Capitol.  I was bored, and more than ever ready to go home.  I also got sick while I was there, so that did not help the fact that I did enjoy the trip at all.


The next day after the Capitol was graduation day.We listened to a few speeches from important people, and then we all threw our visors in the air to celebrate the end of the longest week of summer.After the ceremony, we were free to leave, and I was out of there as fast as possible, along with my roommate.  She was equally excited to get out of there as I was.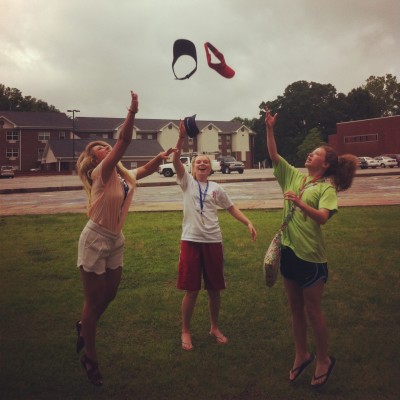 Girls State ended at approximately nine in the morning, and I went straight home to go to sleep.  I did not sleep very long before I got up again to go back outside to continue practicing for my competition the very next day, even though it would take more than a two hour nap and six hours of sleep that night to sleep off everything that happened at Girls State.


Girls State instilled a sense of patriotism in me and gave me the chance to meet girls from around my home state.


Despite the fact that I was stressed and homesick, Girls State was altogether a good experience and very useful on applications.  Girls State is an honor to be chosen to attend, so I am thankful for my school choosing me as one of the delegates to represent Searcy High School at the 2013 Arkansas Girls State.