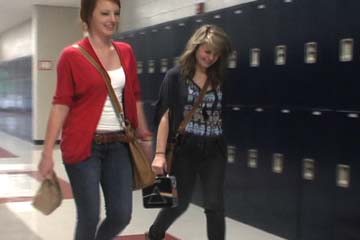 The dress code has been an issue for many schools in the state. Holes in jeans, showing cleavage, and sagging pants are just a few of the basic rules enabled by an act from Arkansas legislature.
Most recently, the change was made to disallow students from wearing sleeveless tops and dresses and there are mixed reactions from everyone.
"The Committee felt like trying to eliminate the problem of exposed skin, one of the things they did was think about the sleeves," said Principal Claude Smith. He added that he believes in modesty and "professional people dressing professionally."
Most students feel that this rule is unnecessary, and that the previous rule of at least three inches for straps was sufficient.
Junior Hannah Stewart feels very strongly about the rule.
"I just think they're going way out of their way to make people mad, because it's working for me," Steward said. "I don't think it really matters, as long as you're not completely bare, I don't think it's a big deal."
However, for those who don't like the new rule, there are options, so that you still have freedom in how you dress.
Students, especially girls, can wear sleeveless tops and dresses, as long as they have a cardigan or other type of cover-up to complete the outfit.
It looks like Searcy High, or the rest of the state for that matter, won't be having any "pants on the ground" anytime soon.