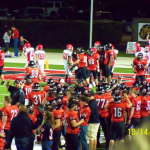 The Searcy Lions inproved their record to 5-2 with a win, at home, against the Jacksonville Red Devils on Oct. 14.
Quarterback Dezmond Stegall rush for 1-yard touchdown and completed a 20-yard touchdown pass to Cam Woodruff.
"The run and pass were both there," Stegall says. "We put the right plays out there and we executed. The defense played well too. Our defense put them in a bind a couple times, but they worked through it and we got the win."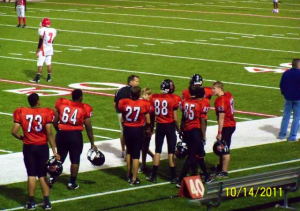 Chase Caple and Antwan Arnold also scored rushing touchdowns and Evan Scarbrough tapped on two field goals.
Harper says the team's two fumbles hurt them, but the Lions' character saw them through the contest.
He said, "Those two fumbles would have killed us in the past, but I'm proud of our kids because they believe in themselves and they have lots of character. The defense played great, too.With three picks, a fumble recovery and one interception returned for a touch down, that's awesome."
Antwan Arnold led the Lions on the ground Friday with 101 yards on 22 carries.
Stegall completed 15 to 20 passes for 197 yards and two total touchdowns.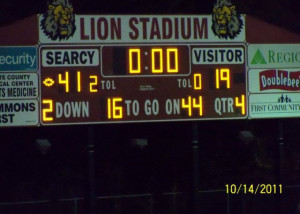 Deion Byrd led the defense with seven tackles and an interception returned for a touchdown.
With the improved record, the Lions look forward to going to Jonesboro this coming Friday.
Head Coach Tim Harper said after Jonesboro defeated West Memphis in overtime Friday, that the Lions can make this season even more special.
"We go to Jonesboro with a chance to do something special," he says. "They do a little bit of both, the pass and the run, but I don't think they're as good with the pass as us, so we're going to have to stop the run."