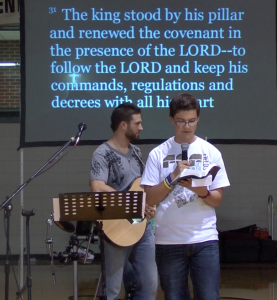 Fellowship of Christian Athletes (FCA) each year sponsors Fields of Faith for high school students. This year the event on Oct. 12 was moved from the fields to the junior high gym because of rain.
Valley Baptist Church's drama team, H2O,  was one group who performed at Fields of Faith. The group did a performance to the song East to West by Casting Crowns.
"I guess it was just a God thing as to why we chose that song," Dylan Rohr says. "Since we already knew the song, it basically took about one to two weeks to prepare."
Rohr, a member of the H2O team, said the group has been performing for the past four years at Fields of Faith.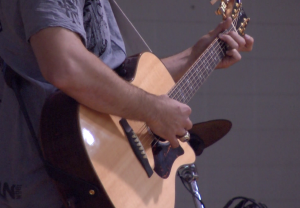 "We usually get asked by FCA," Rohr said. "We've been doing it for the past four years and we'll continue to do it yearly."
Rohr has been a part of the H2O team for four years and says he will continue to participate in the H2O activities.
"We like to make it a point when we go up there to go up there with an attitude of worship instead of performing," Rohr said.
Many people from the FCA group spoke and gave their testimonies: Tori Sanders, Alex Davis, Brady Morris, and Coach Bryant Turney spoke.
Sanders, who does devotionals for FCA, said speaking at Fields of Faith was a good way for her to share the word.
"Coach McCain came up to me and asked me if I would speak," Sanders said, "I just felt like that was what the Lord wanted me to do."
Several hundred teens and adults turned out for the evening worship. The first Assembly Youth band also performed.