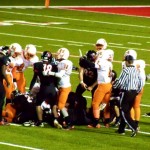 The Searcy Lions entered the game against Little Rock Hall Friday, Oct. 28, with one goal in mind—to go undefeated at home.
It was a nail-biting first half, but the Lions broke the game open in the second half and scored touchdowns on three Hall turnovers to get the 46-21 win.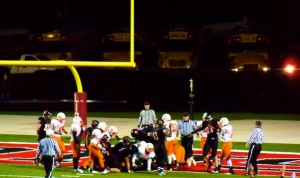 "I'm proud of our seniors," Head Coach Tim Harper said. "They're a great group of young men that work extremely hard. They're not very vocal, but they lead by example and this win means a lot to them and to the program."
Wide receiver Darius Bowman, who had a forced fumble, a fumble recovery, a 62-yard reception and a 9-yard touchdown pass, said the win was a big one for the Lions.
"It's awesome to go undefeated at home," he said. "It's my first year starting here and it's great to be able to do that with this team."
The undefeated period at home has resulted in at least one home play-off game for the Lions. In which, Harper said the team is excited.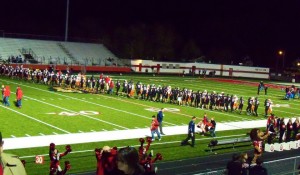 "We'll have a home playoff game on Nov. 11," he said. "And, if we can get the two-seed, we'll get two home playoff games. That's the big deal and we want to take advantage of it."
Bowman said he's confident in the Lions' chances for a playoff run this year.
"I think we can go all the way this year," he said. "We have a lot of skilled players and should have a pretty good run."
For the Lions to have their play-off success, Harper said they will have to play like they did in the second half in the game against Hall.
"In the second half, we played like we have been playing all year," he said. "We will have to keep that up because we can't afford to play like we did in the first half against these teams coming up."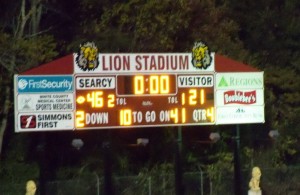 The Lions are also hoping to get back a key part of the offense in Antwan Arnold, who was injured and out of the home victory.
"Antwan would have made a big difference Friday, but our three backs did well for us," Harper said. "Antwan should be ready to go next week."
Deon Byrd led the Lions on the ground with 60 yards on eight carriers.
Stegall went 10-of-19 for 214 yards, three touchdowns and one interception.
Bowman led in receiving for Searcy with three receptions for 90 yards and one touchdown with a forced fumble and fumble recovery.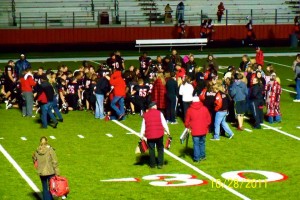 Cam Woodruff picked up a rushing and a receiving touchdown in the contest.
Johnathan Powell caught an 11-yard touchdown pass.
Chase Caple picked up a 1-yard touchdown run and Trevor Holden brought down a touchdown reception.
The Lions look to end the season on a high note as they shoot for 8-2 Friday, Nov. 4, at Mountain Home.