Searcy High School holds an annual Fields of Faith event around the month of October that gives each student a chance to go and to worship.
A group from Valley Baptist Church called H2O played an important role in this event.  Not only did they help to provide some crucial help during worship, they also served as examples to others.  Through their interpretive dances, dramas, and routines they were able to show their faith for God.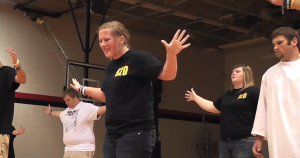 Senior Brady Morris said that H2O has performed many times in the community.
"H2O stands for His to Own and we minister around town whenever a door opens or an opportunity we like to take the chance and go and just let the Lord work," Morris said.
This group helps to bring the words of Christ to the people while ministering locally wherever a chance or opportunity arises.
Tonya Morris, who is an adult leader, plays an important role in this group's success.
"My job is to make sure that students that are a part of H2O are growing spiritually," Morris said. "The dramas we do and when we get to minister somewhere, for me that's just bonus, my job is to be able to pour into them."
She said her number one objective is to teach members of the group that worship is a lifestyle.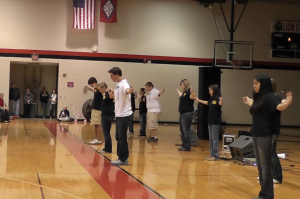 "Everything we do comes from the overflow of what God has done in us," Morris said.  "As they minister to other people, they will see that, they will see Jesus and not just a bunch of kids up there  doing some cute moves to some good songs."
Morris said hard work put in by the H2O members pays off at every worship and performance they have.   "We practice every Sunday from 3 to 5 every week," Morris said.
All in all the practice and the combination of worship and drama helped to provide a ministry to many in the community.