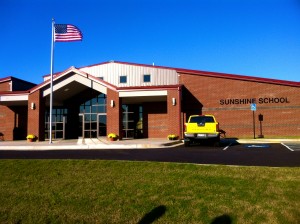 Just off Airport Loop, the Sunshine School has relocated and doubled in size. On the outside, the new school is a large building surrounded by plenty of beautiful land. On the inside, this over 20,000 sq. ft. building offers a chance for normalcy for special education students.
The Sunshine School began in 1965 as a community outreach project from the Searcy Junior Auxiliary. Women would meet with three children and would read and play games with them. They met in a house near the original school, located on Park St.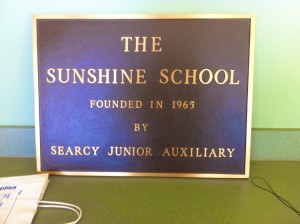 Sunshine School Executive Director Mary-Lou Dunn was a senior in high school when she first started helping out. Her time at the school, as a senior, was what caused her to change her degree plan before she went to college.
"I knew that's what I always wanted to teach at a college level," Dunn said.  "And one day, I was helping a kid tie his shoe and a member of the junior auxiliary walked by and said, 'Oh, I heard you're going to major in special education.'And I said, 'Why yes, I am.' I was immediately taken back by my response, but I knew that's what I wanted to do."
Dunn has been working at the school for 34 years and has watched it grow from the small house to the school on Park Street. Just in the past few years, the administrators at the school started to see that the school building could no longer hold its growing student body.
With 70 students, young and old, enrolled this year, the new building will help with the new students yet to come from around the state.
"We've been looking at getting a new building for about 10 years, which is when we started to gather the money," Dunn said. "With the contributions from the community and the United Way, we have almost paid for our entire building. It was a $1.6 million project and we paid $1.3 million. We are about $300,000 short."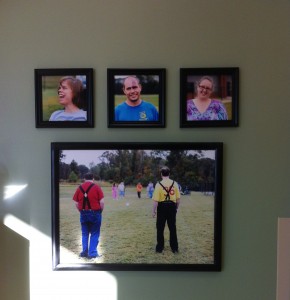 But the wealth of the  Sunshine School is not what keeps those unique students from coming back every year, its the chance to have a regular school day, where they ride a bus, or eat in a cafeteria, or have recess, or make friends who understand a lot of what they may be experiencing.
"We try to keep our school day and the expectations of our students as close to a regular school as possible," Dunn said.
As you walk into the lobby of this big building, you are greeted with a calm yellow color and portraits done by Cheryl Weaver at Zoe Portrait Arts of some of the currently enrolled students.
Not only is the new building more welcoming and have more space, but it supplies plenty of technology and other amenities to make the school day easier, enjoyable, and normal for the students and teachers.
Each room includes a door leading outside for evacuations, and each room shares a bathroom with the room next door.
For each student to receive more individual attention, the amount of kids in each classroom is kept small. This also helps teachers as well.
If needed, students can receive physical, speech and occupational therapies, besides the usual education.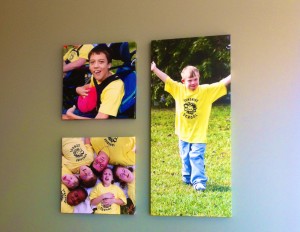 "We want to build a gym and a therapeutic pool, in the future, of course. And as of right now, we want the school to be beneficial, but we wish developmental disability wouldn't grow as fast as it does," said Dunn.
With fundraisers, Box Tops, ink cartilages, Sexton Food Receipts, and donations, all services, including attendance fee, is completely free to the parents. If that's not enough, fee is paid through Medicaid Card or the school district.
"We are making a difference in students' lives, their families', and the lives of the community. You forget about the development disability, when you work closely with someone as unique as them and realize who they are as a person," Dunn said.