As Senior Night came and went, many emotions were stirred up when the seniors began to realize that their year was coming to an end.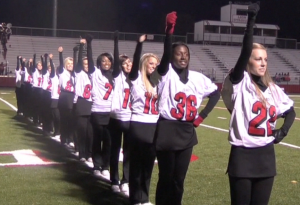 Senior band members, cheerleaders and football players, were all recognized on the track that night.
Senior Corey Webb reveled in the atmosphere.
"My favorite part without a doubt was just being here in this atmosphere with all of these people, and esepecially now since the administration is loosening up a little, finally and letting us have school spirit," Webb said.
Senior, Dawnesha Whitney of the varsity cheer squad was emotional.
"It was really overwhelming with the pep rally and the game and it didn't really hit me until we did the fight song for the last time," Whitney said.  "…I got kind of choked up…watching Austin(school mascot) directing the band on the band stand."
Anne-Claire Smith remained positive, for if winning this game, lions would take the home field again for a play-off game, but was sad whenshe thought about leaving her friends in the stands behind when the season truly did end.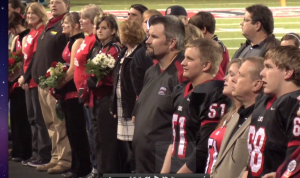 "I'm excited, but I am going to miss everyone," she said.
Webb said it is strange to think this is one the last football game he will attend as a senior
"It's a little surreal," Webb said.  "I've been cheering on the lions for four years now faithfully I've only missed one game this year, but that was extenuating circumstances i wasn't planning on missing that.  It's weird thinking that except for the playoffs, I will never again be a student in the student section cheering on the Lions at a home game."
Mason Guthrie, a Senior Captain of the football team, in a way missed out on his senior football season because of injuries.
"I've been working for my senior year of football, since I could do anything, and then I get hurt my senior year, so I cant lift waits, or play," Guthrie said. "It's kind of sad, because that's what I've been working for my whole life, and I can't play and then it's over with."
Christyn Simmorns said she will miss time with fellow classmates.
"I love going to the football games and hanging out with my friends–dancing and cheering and yelling," Simmons said.  "Since this is the last actual home game…it's kind of sas 'cause it's sinking in that senior year is coming to and end, and everything is wrapping up…but it's exciting at the same time."
Senior night ended with a Lion victory and memories for the seniors present at the game, one step toward graduation completed.