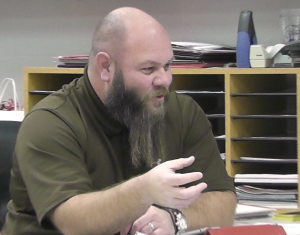 Over the years, many great people have walked the halls of Searcy High School setting milestones and achieving great things. This year a teacher lives with the reminder that his record may never be surpassed.
"This is a huge accomplishment," English teacher Trisha White said. This is something I could never accomplish. It's impossible, I could never do it."
English teacher Steve Snow said he hopes someday to be just like "Doc." Watson.
"Doc is one of my dear friends at Searcy High School," Snow said. "I love him to death and I try to emulate him in any way. I try so hard because he's got everything bigger and better than mine.
As he revealed a small goatee, Snow said, "Someday I hope I'll be just like Doc."
Dr. Miles Watson, AP English teacher, has a massive beard. It is not just any  beard. This beard has become a defining characteristic of Doc. When people think Doc, they think epic beard.
"I guess ever since I've been at Searcy High School, I've had the beard. It's been in different forms but, I don't think anybody knows me without the beard," Watson said.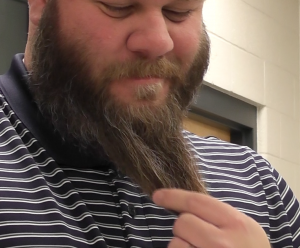 The fabled beard has not always been the bushy fellow it is now, however. It has been through many stages on its long road to glory.
"I've guess just about every type of beard. Usually it's been the goatee," Watson said. "A couple of times it's been the full man beard like this. We've even done the Fu Manchu, side burns, lamb chops, and all that cool stuff."
Many people say that beauty requires work. And Watson knows with a mighty beard comes a mighty challenge to tame this ferocious beast.
"Just like when you wash your hair, it's long enough that if I don't wash the beard, it gets mighty nappy," Watson said. "So I wash the beard. I have my own little bottle of shampoo and conditioner."
Not only is the washing process detailed, he has to dry the beard too.
"I know it's scary," Watson said. "But I have to get the hair dryer out. If I don't dry it, it goes in like a thousand different directions."
As for the future of the beard, Watson plans to keep it around. He has become rather attached to his furry friend.He will grow it out for now and who knows what the future of the beard is–maybe a Santa Claus beard, or even a Gandalf.