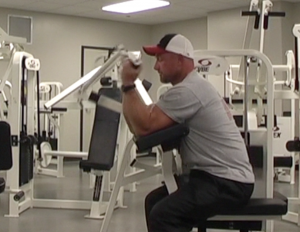 From the time he was young, Coach Steve Leonard always enjoyed working hard and pushing himself to his limits.
"I was told I was too short to play basketball," Leonard said. "So I just had a point to prove to everybody that a little guy could go play something and be successful."
Like so many of us, Coach Leonard was inspired to go somewhere and be someone.
"If I wanted to get away from here," Leonard said. "Then I'd want to go to a place where I guess people didn't know me and there's just a fresh start."
Even though he was a small player, Coach Leonard lived his dream of becoming a semi-pro football player. He played for eight years for teams in Memphis, Louisiana and south Arkansas.
"I was pretty successful. I was the lead MVP and scored like 18 touchdowns," Leonard said. "I consider that an accomplishment, being that age and still being able to play like that."
Though Coach Leonard had a successful football career, time took its toll and he soon had to retire.
"After 17 surgeries, you realize you're to old and you can't do it anymore. So I ended up giving it up because of that," said Leonard.