Super Bowl Sunday
Searcy(LP) The Super Bowl was last Sunday, and Coldplay hosted the Pepsi halftime show. With a viewership of 111.9 million, and past performers such as Bruce Springsteen, and Paul McCartney; Coldplay had a pretty big pair of shoes to fill. Coldplay started off the performance with Viva La Viva, Paradise, and Adventure Of A Lifetime. With visuals like colorful flowers and ribbons. Bruno Mars then came in and sang the popular Uptown Funk, and Beyonce strutted in with her new song, "Formation." Bruno and Beyonce then continued to have a friendly dance battle. Coldplay ended the halftime show with "Fix You," and the audience holding flowers that spelled "Believe In Love."

Coldplay's performance has been receiving negative reviews, calling their part of the show "bland." The visual effect of the show was pretty, but not the best in my opinion. Coldplay was okay, Beyonce was good, and Bruno Mars was great, but overall the halftime show lacked the "wow" factor. In Coldplay's defense, it would be hard to top great performers such as Michael Jackson. 

What students from Searcy High School thought abou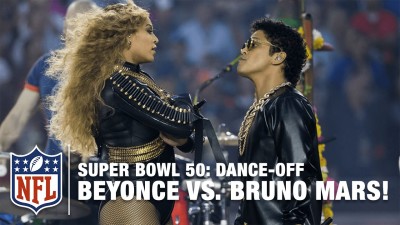 t the show

"I think the show was ok, but it wasn't better than past performers." said junior Brooke Fraser.

"I liked Beyonce's part, but not Coldplay's." said junior Leo Martinez.

"I don't think Coldplay was the right choice for the show," said senior Ashton Herekamp. "I think they should've picked someone more popular."

Comparing Coldplay To Other Halftime Performers

Michael Jackson: Michael Jackson, after 22 years, still stands as the "best" halftime performer.

Katy Perry: Katy was better at the visual aspect of the show while Coldplay was better at the vocal part of the halftime show.

Bruno Mars: Bruno and Coldplay both lacked in the visual aspect, but Bruno made up for it with his vocal talents. Coldplay was just okay, while Bruno was amazing.