Searcy (LP) Last Thursday the world received the heart breaking news that Prince Rogers Nelson, at age 57, died at his home in Paisley Park. Earlier in the week, Prince made an emergency landing in Quad City International Airport after suffering from flu-like symptoms and becoming unresponsive. After getting medical treatment, Prince stated to the doctors that he was feeling fine and threw a party at his home in Paisley Park, and on April 19 joined Lizz Wright on stage at Dakota Jazz Club. Although, on April 21 the sheriff's office received a 9-1-1 call requesting an ambulance be sent to Prince's house at Paisley Park, the responders found Prince unresponsive in an elevator, and began to perform CPR. Sadly, they could not revive him and Prince was pronounced dead at 10:07 a.m. After Prince's death, people all over the world flew to social media to express their sadness.


"I loved this man. Too soon. Can't comprehend it but it's unfortunately true. Heaven is yours. RIP" tweeted MC Hammer.


"I'm not even gonna say rest in peace because it's bigger than death. My assessment is that he learned early on how little value to assign to someone else's opinion of you..an infectious sentiment that seemed soaked into his clothes, his hair, his walk, his guitar and his primal scream." said Frank Ocean on Tumblr.


Everyone had their own way of dealing with the shock of the death of a Prince.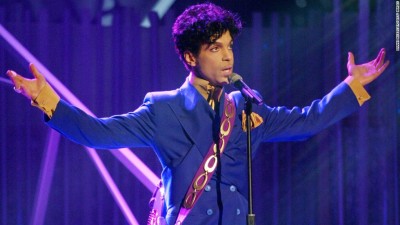 (Prince on stage)


"I cried, he was an amazing artist, more like a legend. He was grounded, he was brilliant…" said Tiffany Jackson.


Princes legend and music will live on for years to come. Immediately following his death, Prince's song "Purple Rain", which won two grammy's, rose to number one on the Billboard charts almost overnight, and radio stations all over the world blasted Prince's beloved music. Overall, Prince won seven Grammys, and four MTV awards. Although there is still mystery surrounding Prince's death, in the meantime, people will still listen to his music and remember the legend that is Prince.


"Prince the doves really are crying now. Listening to your music. Remembering you." said Oprah Winfrey.