Searcy (LP) Harding University has always been a great asset to the Searcy community, they have sponsored and created many events in our town. Many of these events include the town's youth. There is a new and exciting program called Bison Tennis Academy. The Academy is being run and organized by the Harding University Tennis team. Pablo Trevino, the student athlete that is in charge of the program. We asked him what the event was all about and this is what he had to say, "This a tennis academy and we are trying to get kids to come out and play tennis during the school year, so they can have a chance to come and grow in there tennis game and have fun."
The academy is going to be held on Tuesdays and Thursdays during the week with the ten and under starting at six o'clock and the and then starting at seven is when the ten and up age group will start. The cost for each hour is ten dollars. If you would like more facts about when and where you can check out their facebook page, Bison Tennis Academy. The lessons will be held at the Harding University tennis courts.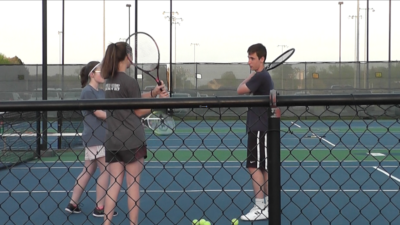 Pablo said that he is excited for all the kids to come out and "as long as we get more kids we will try to get more college tennis players to come out and coach." Adiia Valentino, the teammate helping Pablo with the program said, "The priority of this project is to let the kids have fun." With a low price and the laid back atmosphere Harding is hoping to see many of the town's youth and teens at the courts. Adiia also said "I encourage everyone who wants to try to play tennis, and ones who are actually playing tennis to improve." So maybe if you have some extra time you could go out to the courts and gain some new tennis skills from your very own local players. With this being a new program and work in progress for the college they hope that it is a hit!