Searcy, Ark., (LP) — When the word "football" comes to mind, other words like Friday, cowbells, and fatheads are thought of as well. Football is one of the biggest sports in Searcy. Almost every boy plays the sport. It's more so of a tradition than anything. Everyone comes out to support their Lions no matter how far the game is or how hot or cold it might be. This year, our Lions are 8-2 and have officially made it to the playoffs! The playoffs are series of contests played to determine the winner of a championship, as between the leading teams in different divisions or leagues. The Lions, coached by Mark Kelly, has exceeded every fan's expectations.
This Friday, Searcy is playing against team Lake Hamilton. "It's a tough team, so I'm preparing my boys to do their absolute best. Our plan is to win and we always complete our plans." stated Coach Kelly. The pressure is on due to Lake Hamilton's student section on Twitter.  They slandered us on how little we have accomplished this season due to the fact that the lions have lost two games. The comments were later deleted. Searcy Lions need to beat four teams in order to make it to the championships. Mason Shuckner commented that "our team is the best it has ever been and we'll beat them one by one." When asked about their process on training for the play offs, Mason explained that the team watches footage of the team they are preparing against, pick out the best players, and then begin physically training. Mason stated that his excitement for this game is "major". "Last year when we played against Lake Hamilton, a guy busted my knee up, so we're definitely taking the cake again against him," stated Mason. The moms and spirit squads do something special for every major game.
The Lion Steppers, cheerleaders, and the mom squad are hosting a bonfire for the football players. It's open to the public, free food, and the squads are performing. It's the perfect opportunity for everyone to spend quality time with one another in a calm and comfortable environment.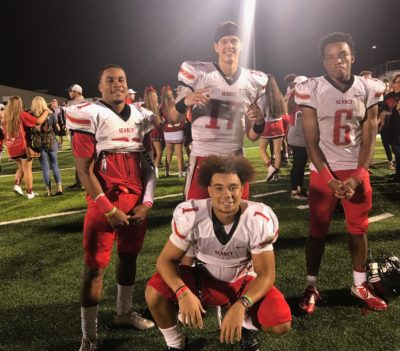 Searcy is thrilled to have their Lions in the playoffs and do such an outstanding job! We're excited to see what the future holds in Searcy football. The Lions are pumped to finish their season with the hopes of getting a ring. Wish the Lions luck as they take on the Lake Hamilton Wolves on November 9th at the Searcy Lion Stadium 7 o'clock sharp!