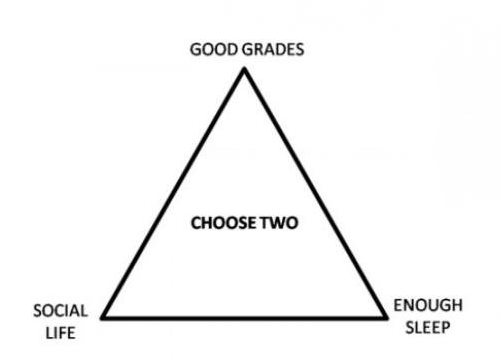 There are three priorities a college student should feel obliged to meet; grades, social life, and sleep. I have been told a time or two that it is impossible to achieve the goal of all three and that two will overtake life at college. Of course, the responsible student would not bother trying to juggle all three and would focus on getting good grades. Most college students want a social life and sleep helps keep grades up, so how do you juggle all three?
My opinion is that grades should be the main priority. Having the best social life on the planet cannot save me if I lose a scholarship. Remaining at college depends on grades, so studying a little bit each day is ideal. I know many high school students who may have to change their study habits in college in order to maintain decent grades. Cramming the night before a test may not be sufficient enough in college. While studying is probably the road less traveled by college students, I will attempt to make it my first priority.
The next two factors involved with life at college are sleep and a social life. While I think it depends on the person how well they can do without sleep, I know I am the type that would not have much of a social life if I never slept due to the fact that I may be extremely cranky. Therefore, sleep will most likely be my second priority. I firmly believe a good night's sleep is healthy the night before a test. Enough sleep means better grades in my case. In high school, I still find time to hang out with friends and go out. Do my grades suffer sometimes because I choose fun over studying? Yes, but I know when I need to say no to my friends in order to maintain and 'A'.
Students whose parents will pay for them to party for four years will have a great time, but the rest of us will have to learn how to juggle college life. My theory is that it takes a well organized person to balance grades, sleep, and social life at college.