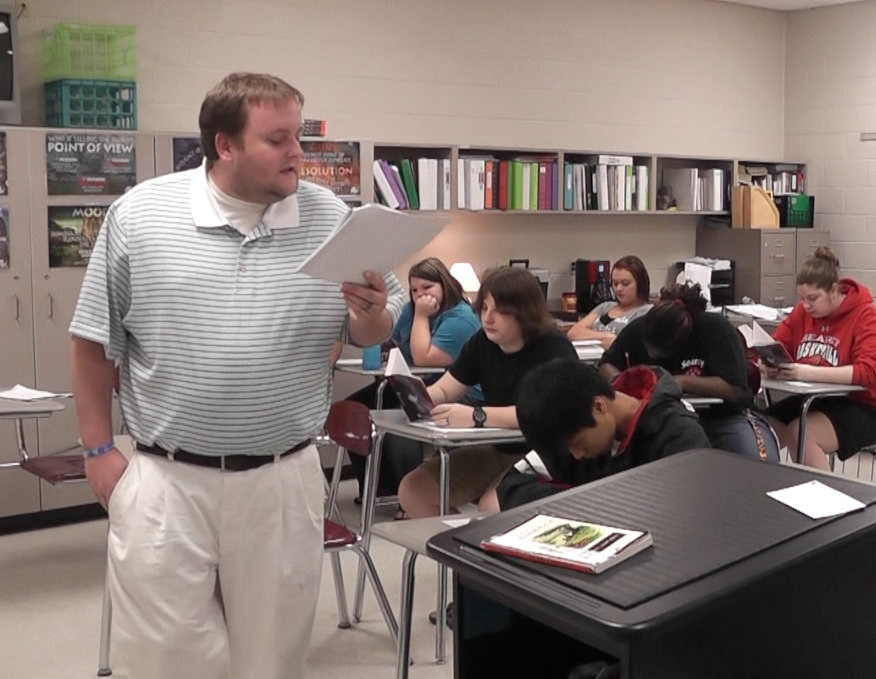 Ty Gentry is a student teacher for English teacher Sherri Farhat.
"Ty Gentry is my student teacher this year from Harding University and right now he is teaching a novel called 'Unwind'," said Mrs. Farhat.
Gentry is not a regular student who left high school to go right to college.
"I do go to Harding," Gentry said.  "I am not your typical student being almost thirty— I just turned 29. Before this, I worked in the oil field which is what I did for almost five years."
Gentry is married to a teacher at  from Ahlf Junior High School, and many students had her as a teacher as well.
Gentry said he has discovered teaching is hard, not only in the classroom but also finishing up his degree.
"I have Mrs. Farhat… and then I have Harding, and both of them want all of my time," Gentry said. "It's a passion. You have to love to read and you have to love English, but you also have to like kids."
Not only does Gentry teach, go to classes but he also drives a bus.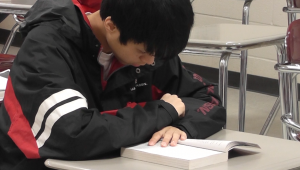 "It's a love/hate relationship with the bus," Gentry said. "Getting up and being on the road by six o clock every morning because I'm out there in Georgia Ridge country, which is a pretty good drive in a bus."
Driving a bus and student teaching seems like a lot for this Harding student.  After seeing how much work the teachers do,  Gentry has decided not to drive a bus his first year of teaching.
Farhat said Gentry is doing very well in his practice teaching.
"He's doing a very good job with it," Farhat said. "I'm thrilled to have him because it gives me a new perspective in my classroom, and it gives me new ideas when I have new teachers coming right out of college. I think he has done a great job trying to get to know the students, and they have adapted well."
Gentry hopes to get a job teaching after he graduates, and preferably in Searcy. He enjoys teaching and he wants to teach kids things along the way.