April 30, 2012 at 1:12 pm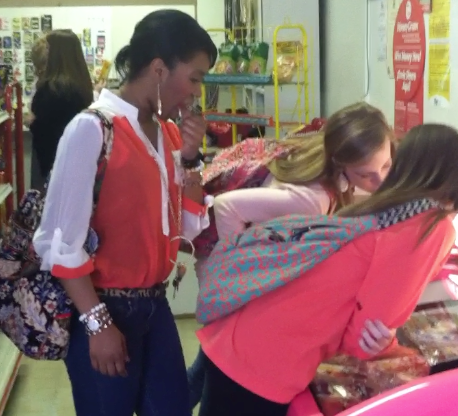 Lori Nielsen's Spanish students took a trip to a local Mexican grocery store recently to practice their non-native language.
"I went to the La Fiesta Mercado with the Spanish class, and we got to see all the different kinds of foods they have," Sam Elander said. "They have a lot of vegetables and fruits and pastries for sale."
Taking a trip helped the students get outside experience in speaking.
"It was good practice from last year because like, that really  helped me a lot going last year," Peria Gipson said. "So when I went this year I was a little bit more comfortable, like asking her the questions. She wasn't like  mean or scary or anything, so it was good."
Most students made purchases of the unique items in from the store.
"I actually  bought a Coke," Peria Gipson said. "I know it sounds really stupid considering it's American, but in Mexico there is a different kind of sugar and it tastes extra sweet and that's good."
Some students even had a conversation with the owner in Spanish.
"I asked how much everything was and how the lady was," David Rippey said.