April 30, 2012 at 1:12 pm
The Jumpstart is going to be very short handed when the seniors leave this year but they have been working hard the past few to learn the tricks of the trade.
"Well , we have been working in the control rooms and we've also been learning how to line edit, and I personally have helped out in the studio a few times anchoring and stuff such as that, this is all apart of getting ready for the seniors departure," said Kelli Cooper.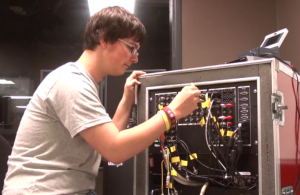 "Every day when the shows are being recorded, Laken Isom and I produce the show and we put them together along with Carl, I'd have to say Laken and Carl have done a great job in training and preparing me for what's to come as far as Jumpstart goes," said Dylan Rohr.
With only three people to produce the show, many difficulties will arise.
"There's only going to be the three of us and we are the only ones left that have been trained to do pretty much everything so instead of having seniors to teach, we will be the ones teaching others," said Ainsley Pinchback.
This small crew will grow once the new year starts with the addition of new staff members from beginning TV classes.
"We're going to have to assume most of the responsibilities that the seniors once had, so it's going to be tough at first; however, we will make it through," said Rohr. "We have a lot on our shoulders and big shoes to fill,"
Seniors are confident these three will do a good job according to Justin Rose.
"I think they may struggle in the beginning only because they're going to be short-handed and left down to three people versus having the advantage of having 15 people to help out, but hopefully they'll get more people through the intro classes," Rose said.
Laken Isom who produced most of the shows this year is sad to leave the show.
"It's kind of sad to let it go but I trust the three people we are leaving in charge, and I have a strong feeling that they will have the capability to make Jumpstart better than it has been before," Isom said. "They may have some big shoes to fill as Dylan says but I think they can handle it."