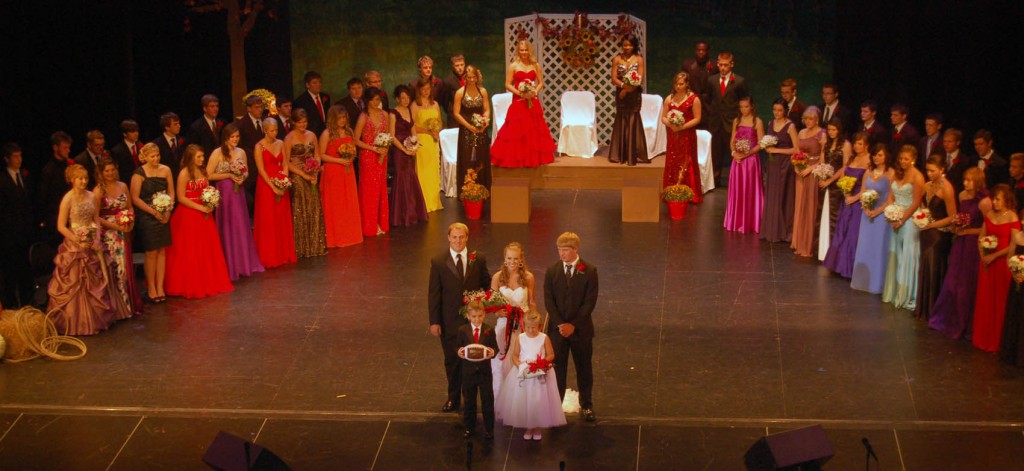 Homecoming is a traditional time for high school students to make memories with fellow classmates, past graduates, and family. One of those traditions is that the football team homecoming royalty and clubs choose sweethearts who are seniors.
Homecoming Queen: Amber Breaux
"I think I got picked for Homecoming Queen because I am very friendly and outgoing, and I am a strong supporter of the football team.  Mason Gutherie and Chase Caple are my escorts because I have known them for forever, and they are good friends of mine.  The most exciting thing about being picked as a part of the homecoming royalty is representing out school with dignity and pride.
Maid of Honor: Erin Chapman
"I think I was chosen because I am involved in many school activities and I am very supportive of the football team.  My escort is Austin Wood because he is my best friend, and I thought it would be cool if the mascot escorted me! The most exciting part of being picked for royalty is wearing a beautiful dress at the assembly and being recognized for all my accomplishments."
Senior Maid: Dawnesha Whitney
"Dezmond Stegall is my escort, because we've been friends since we were little, and he's a strong leader of the team.  The most exciting part about being picked as homecoming royalty is being able to walk down the field with my daddy, and the thought that the seniors on the football team picked me for the position."
Junior Maid: McKenna Smith
"I think I got picked for this position because I am good friends with a lot of the junior football players.  My escort is Camdon Woodruff because he is one of my best friends.  The most exciting part in my opinion is picking out a dress and getting ready!"
"I will have to say I got the position because I am very spirited.  I like to show my school pride by attending Friday night football games! I can't wait for homecoming! This will be fantastic!"
Searcy High School has many curricular activities that nominate a Sweetheart to represent them at homecoming.These sweethearts are elected through the student body. The sweethearts are listed below:
Band: Kimmi Scanlon
Beta Club: Kelly McKenzie
Choir: Kelsea Manville
Drama Club: Emily Crawford
EAST LAB Sweetheart: Emily Alumbaugh
FBLA: Lauren Brandon
FCA: Amanda Goodwin
FCCLA: Madison Burrow
FFA: Victoria Taylor
Fine Arts: Christyn Simmons
Future Teachers of America: Anne-Claire Smith
French Honorary Sweetheart: Jenna Denney
HOSA: Gabby Hannah
Key Club Sweetheart: Ashely Jackson
Lion TV: Abby Spence
National Honor Society Sweetheart: Allyson Ferren
Quill and Scroll: Kyla Feather
Spanish Club: Lauren Lee
Spanish Honorary  Sweetheart: Lupe Castorena
Student Council: Geneva DeMarzo
Yearbook Sweetheart: Emily Ladd
Youth to Youth: Brittany Rushenburg