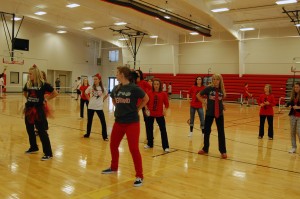 The Searcy High School dance team, the Lionsteppers, have gone through a renaissance in the past year.
Coach Tiffany English was a member of the Lionstepper when she was in high school here and wanted to bring back the same style of dancers.
One dancer, Hannah Haggard, was ready to make the changes necessary to do that.
"All of us girls really wanted to change the reputation and just have fun," Haggard says.
Co-captain Becca Buterbaugh wanted to bring back some spirit at games.
"I joined Lionsteppers because I thought it would be fun to help raise school spirit through dancing," Buterbaugh said.
Sixth period every day the girls meet in the gym to practice for upcoming games.
"I really love having dance as a class period because it gives my a break from sitting in a desk, and the team gets to practice for our next performance," Co-captain Jessica Etheridge said.
Lionsteppers are improving fast with the help of the coach, Tiffany English.
"Mrs. English is the best coach ever.  She gets to know each of us on a personal level and you can count on her for anything," Etheridge said. "She is harsh when it comes to practices, but that makes us better."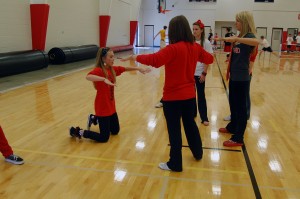 As for performances, the girls had practices in the summer to help prepare them for their first game at North Pulaski.
"I feel like we're doing a pretty good job but we're still trying to improve and be the best dance team we can be," said Buterbaugh.
They dance at football games on Friday nights.