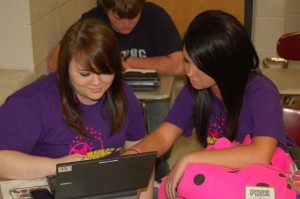 When Miles Watson came to Searcy to teach, creative writing was not offered as a course.
"I've always had a passion for writing and reading," Watson said.  "I had great teachers in high school and college and they really encouraged me to write so I've just stuck with it all these years."
Watson earned a doctorate degree in Creative Writing so he was a natural choice to teach the class.
"I definitely enjoy it because I really like being able to help students express themselves in writing," Watson said. "I also like it because it is a less formal class and we get to focus on the more enjoyable aspects of writing."
Writers in the class work on stories for Backbone Ridge, a literary magazine that publishes young writers and poets.
"My favorite thing about creative writing is working with the literary magazine," Watson added. "It is the most fun thing and the most stressful thing but, I really enjoy working with it every year."
One student in this class, senior Kelly McKenzie, feels the class has been helpful in making her writing better.
"I've been writing fiction and poetry for as long as I can remember, so I knew this would be a great opportunity to write more and get some helpful tips and improve my writing,"   McKenzie said. "Plus, I've been published in every issue of Backbone Ridge except the first, so I was excited about joining the staff."
Watson said most of the class time is spent editing and writing for the literary magazine.
"In this class they mostly read and write poetry and short fiction, and they work a lot on Backbone Ridge," Watson said. "It takes a lot of time to do Backbone Ridge."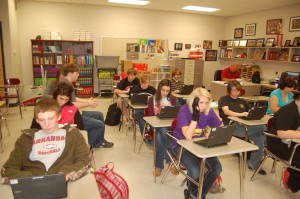 Students help decide the work that goes into Backbone Ridge  and help format the magazine and they sell issues to local businesses to raise money.
"You must be a junior or a senior with good grades in English," Watson said. "You sign up for it in the spring during registration. It's just juniors and seniors because it works out better for scheduling and because we only have a limited amount of space."
If you are interested in writing you should consider joining this class your junior or senior year.