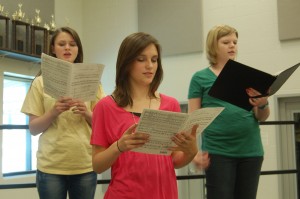 Every year Choir participates in All-Region tryouts in Cabot, and they spend weeks preparing for the competition.
Tina Niederbrach, choir director said the choir spends many hours preparing music for the tryouts.
"There are challenges every year," Niederbrach said. "As far as difficulties, it's just the act of the discipline of practicing it section by section."
Niederbrach said there are several steps that must be completed for tryouts.
"We try to start out with an easy song, and take it by sections," she said.
From there, they begin practicing with the music on CD.
Senior Jennah Denney is eager for All-Region tryouts.
"I've been preparing for All-Region by practicing with my practice cd, and practicing my voice parts in class," Denney stated.
All-Region tryouts are in October, and the Choir is expecting the best.